About Us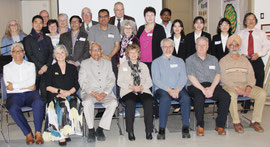 The Multifaith Action Society (MAS), a registered charity under the society's act, was founded in 1972 as an ecumenical society and has become fully interfaith in nature and purpose.


From the outset the Society has sought ways to bring together the many faith groups which characterize Vancouver and to sponsor socially responsible and relevant initiatives relating to the common good. MAS was one of the original founders of the first food bank program of Vancouver, for instance, and has sponsored, planned and carried out conferences dealing with such issues as public sector alternatives dispute resolution (bus strikes), ethical dimensions of clean water distribution and ways of supporting Vancouver's 4-pillar drug treatment program.
Multifaith Action Society participated in the 2006 World Peace Forum, World Urban Forum, and the North American Interfaith Network (NAIN) Conference all held in Vancouver. Current social justice involvements include working on environmental and climate change issues; having partnered with Langara College to host the Faith and the Environment (FATE) conference working with the Provincial Climate Secretariate bringing together faith leaders and environmental leaders in Spring 2008 and homelessness solution initiatives.
It has promoted interfaith dialogue by bringing together members of different faith communities. Our first Christian-Sikh dialogue was held in 2000 and currently we are involved in a substantial Christian-Jewish-Muslim dialogue, both of which were designed to achieve a significant level of mutual knowledge and understanding.
We recognize and respect our differences across our faith communities, while at the same time seeking to celebrate the values we hold in common. We expect to learn from each other and assume from our experience that the faith we each espouse will be enriched by interaction with those of other beliefs and traditions.

The Multifaith Action Society is a registered non-profit society and charity. Its primary aims are:

To promote interfaith and multifaith dialogue and understanding.


To provide information and resources on world religions to the community>


To encourage all people of faith to collaborate on vital community programs, particularly those which provide support and advocacy for marginalized citizens or groups or foster the wellbeing of the community as a whole.



To cooperate with other agencies and organizations to promote initiatives which contribute to the common good.
Governance & Staff
The Society is governed by a Board of Directors, elected by the members and meets monthly. The Board is composed of individuals who are committed to the values reflected in the mission statement and want to make a contribution to a society which respects the richness of diversity while maintaining the essential unity of humanity.

The Board sets policy for and exercises oversight of the production and content, through the MFC Working Group, for the annual Multifaith Calendar which is distributed across Canada, the United States and abroad. Managing Editor for the MFC is Creative Wonders (Diane Lund). Marketing and Distribution Manager is Bernard Bouska.

The Multifaith Action Society Board:
Acharya Shrinath Dwivedi, President

Sukhvinder Vinning, Vice President

Derek LaCroix, Past President

Susan Kerr, Secretary

Connie Waterman, Director

Lama Karma Tsewang Samdrup, Director

Farida Ali, Director

David Ali, Director

Gale Spick, Director
 
Multifaith Action Society Staff: 
Society Identification Numbers
Canadian Charitable Registration Number: 12221 4505 RR0001
BC Society Incorporation Number: S-10588