Saturday, September 8 | Unitarian Church of Vancouver
---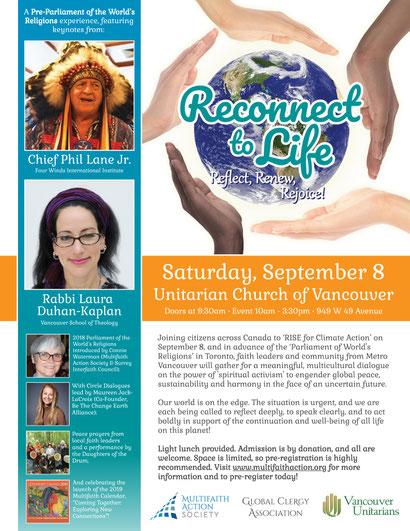 A pre-Parliament of the World's Religions Experience
"Our world is on the edge. The situation is urgent, and suddenly we have startling opportunities. Our responses as global citizens can regenerate a civilization with more joy, abundance and life-affirming relationships than most people and other creatures experience now. Collaborative grassroots energies are "connecting to life" together for a fair and equitable future -- rooted in shared awareness of the interdependence of all life, a universal ethic of dignity and respect, and the priority of love and care for the ecosystems of earth, including humans."
When: Saturday, September 8, 2018, 9:30am to 3:30pm
Where: Unitarian Church of Vancouver, 949 West 49 Avenue (corner of Oak and 49th)
Admission is free and all are welcome, but seating is limited -- pre-register now to ensure your space!