---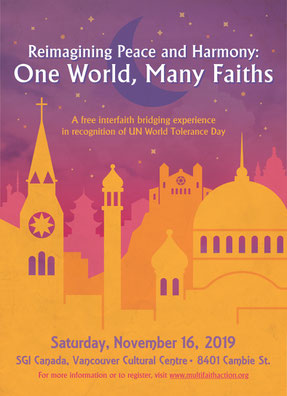 MAS is pleased to announce Reimagining Peace & Harmony: One World, Many Faiths, the latest in our longstanding series of interfaith dialogue forum events.
This event will take place from 1 to 4pm on the afternoon of Saturday, November 16, in honour of the UN International Day for Tolerance, at the SGI Canada Vancouver Cultural Centre in Vancouver. Our keynote speakers include:
Dr. Jagessar Das
Dr. Das, a UBC graduate, is a retired local medical doctor. He is the follower of Kabir, the famous 15th century mystic saint of India. He is past president of the Kabir Association of Canada, and currently president of the Global Clergy Association of Canada, and is a member of Surrey Interfaith Council. He has written several books on the teachings of Kabir, and produced Religious Horizons, a 13-part series on 12 religions for Rogers TV. He teaches meditation and frequently writes for the Link newspaper. His web page is www.kabir.ca
Megumi Takahashi and Omar Velasquez
Megumi Takahashi is an emerging artist from Japan who specializes in the landscape abstract with oil paintings. She was born into the Nichiren Buddhist family, but began her own practice at eleven in her fight against cancer. Her goal is to become an art teacher who can convey the philosophy of Buddhism to students through her artworks.
Uriel Omar Velasquez has been a practicing Buddhist for 10 years, beginning in Winnipeg, Manitoba. Currently working in the film industry as an assistant director, he hopes to bring philosophy and faith to his artwork in the form of an illustrative novel for the upcoming year.
Sukhvinder Kaur Vinning
Inspired by an ever deepening love affair with Sikhi (the Sikh spiritual path of empowerment), Sukhvinder Kaur Vinning actively works with partners from diverse backgrounds to catalyze positive social change for the greater empowerment of all.  She is the Executive Director of Worldwide Shift Disturbers, an organization focused on taking action for inspired positive change. In 2013, she spearheaded Sikh engagement with the Truth and Reconciliation Commission of Canada and the Vancouver Walk for Reconciliation. She was involved in the production of a short film entitled, It Matters: The Legacy of Residential Schools. Born in BC, she brings a wealth of experience in fostering trust and understanding between diverse faith communities.
If you would like to pre-register, you may do so by completing the short online registration form below.
MAS is grateful for the support of the Province of British Columbia and SGI Canada - this event would not be possible without them.
We hope to see you there!
---
Event Pre-Registration Form
Pre-registration for this event is now closed. However, there are still seats available! We would be happy to greet you at the door. On-site registration opens at 12:30pm.
Thank you, and we look forward to seeing you!