Saturday, November 16, 2019 | 1 to 4pm | SGI Canada Vancouver Cultural Centre, 8401 Cambie Street
---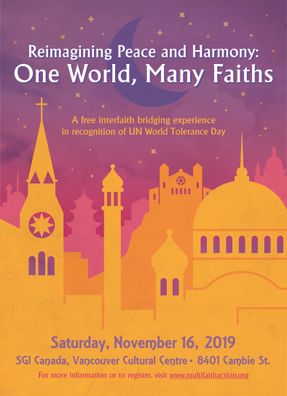 MAS is pleased to announce Reimagining Peace & Harmony: One World, Many Faiths, the latest in our longstanding series of interfaith dialogue forum events.
This event will take place from 1 to 4pm on the afternoon of Saturday, November 16, in honour of UN World Tolerance Day, at the SGI Canada Vancouver Cultural Centre in Vancouver. It will feature two keynote speakers, followed by a participant-lead, small-group dialogue component.
More information will be posted to this page as it becomes available. For the time being, if you would like to pre-register, you may do so by completing the short online registration form below.
MAS is grateful for the support of the Province of British Columbia and SGI Canada - this event would not be possible without them.
We hope to see you there!
---
Event Pre-Registration Form