---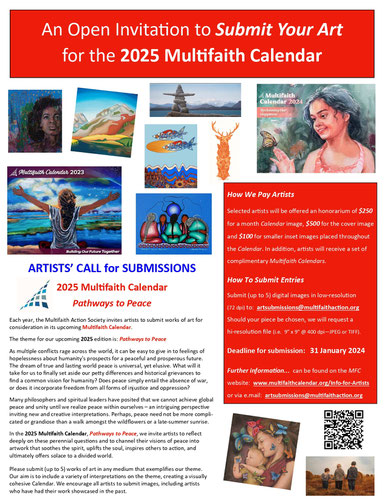 Each year, artists are invited to submit works of art for the publication of the upcoming Multifaith Calendar.
The theme for the upcoming 2024 edition is: Reclaiming Our Happiness
Over the course of the past few years we have endured a series of unprecedented global urgencies, and many of us now feel a burning passion - whether newfound or reinvigorated - to help affect positive change on a grand scale. And yet, before we can effectively tackle the many and monolithic issues of the day, we have a responsibility to check in with ourselves and engage in some 'inner housekeeping', as it were - to clarify our answers to some seemingly simple, yet fundamentally important questions. Perhaps most importantly of all, "What makes me happy?"


Whether it's gazing up a beautiful sunset on a warm summer evening, welcoming a newborn child into the world, or the excitement of exploring a new place, everyone can fondly recall a moment in which they felt truly happy. But how, after having endured the hardships of the last few years, can we bring ourselves to not only inhabit, but ultimately embody that feeling? To elevate ourselves to a place where we can inspire feelings of joy in others, and move forward with assurance that we're ready and able to affect positive the change we so sorely need.


We have come through a pandemic, are facing disastrous climate change and praying for peace. Although recognizing the importance of things we need to now look to the future and reclaim our happiness. How do you make others happy? What makes you feel good inside?  Does happiness mean beautiful sunsets in nature or little children laughing? Look inside and see what will make us smile once again and continue to build hope for the future.


We hope this gives you an idea of the fertile space we hope to explore in the 2024 Multifaith Calendar: Reclaiming Our Happiness. We look forward to your submissions! 
General Parameters:
Each year, MAS invites artists to submit works of art for publication in our upcoming Multifaith Calendar. Work on this theme can be in any medium. The interpretation of the theme will be determined by the overall collection of images received.
Our aim is to produce a Calendar that will showcase a variety of interpretations on our theme while creating a visually cohesive end product. We encourage all artists to submit images, including artists who have had their work showcased in previous Multifaith Calendars.
Please submit your art (up to 5 individual pieces) in any medium that personifies our theme.
We would like to include many different interpretations of Reclaiming Our Happiness, which together will create a beautiful and visually cohesive Calendar. All artists are invited to contribute, including those who have had their work showcased with us in the past.
2024 MFC submission deadline: January 31, 2023
OPTION 1: .....Submit up to 5 images (JPG) in low resolution (72 dpi) to: artsubmissions@multifaithaction.org
Should your piece be chosen, we will contact you and to request a TIFF (preferable) or JPG of the chosen image with the highest resolution possible (month images are printed at 9" x 9" / 350 - 400 + dpi).
OPTION 2: .....Submit up to 5 images by mail to:   Send a seltion of up to 5 images to:
Multifaith Calendar 2020
949 West 49 Avenue
Vancouver, BC • V5Z 2T1
If requested, these images will be returned after the selection process is completed in April.
Selected artists will be provided an honorarium of $250 per image ($500 for the cover image) or $100 for insets (smaller images placed throughout the Calendar) and will also receive a set of complimentary Multifaith Calendars.
For more information, including information about renumeration and the selection process, please click here.