Saturday, April 16, 2022 | 8 - 9pm | Vancouver Art Gallery North Plaza
---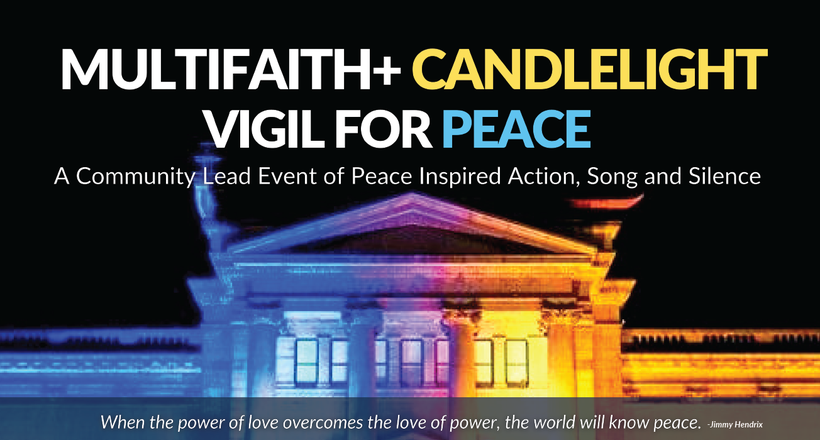 Background: Together, as compassionate citizens from diverse communities, multi-faith groups, government and religious organizations, the Multifaith+ Candle Light Vigil for Peace is currently being planned. The city of Odesa, Ukraine, is Vancouver's oldest sister city of over 80 years. The Multifaith+ Candle Light Vigil for Peace will take place on Saturday, April 16, at the šxʷƛənəq ̓ Xwtl'e7énk Square, (North Plaza) of the Vancouver Art Gallery. This is an evening of song and silence, where the people of Vancouver come stand together in solidarity and remembrance of those in Ukraine, and other people suffering from the injustices of wars, conflicts, economic and climate related disasters and displacement locally and throughout the world. 
Contacts:
Donna Wong-Juliani, United Religions Initiative, CC Co-Founder, Spiritus Mundi c. 604.323.3913 e. juliani@telus.net

Ellen Vaillancourt, Simon Fraser University, MA Candidate United Religions Initiative, CC Co-Founder, Spiritus Mundi c. 604.614.3553 e. edvailla@sfu.ca
---
Art for Peace Eggstravaganza
April 13 - 15 (installation), April 16 - 29 (exhibition) | Vancouver Art Gallery North Plaza
---
Art Project Description: Children of all ages around Metro Vancouver's schools, community centers and members of the public are welcome to participate in of the Art for Peace Eggstravaganza. This outdoor public art installation will be on exhibit @ šxʷƛənəq Xwtl'e7énḵ Square, (North Plaza) Vancouver Art ̓ Gallery (near Hornby and Georgia).
The originally handcrafted eggs will be suspended from the (14) trees on the northwest corner of the Square near Hornby and Georgia Street.
The Benefit: Receive one originally handcrafted egg by donating to UNICEF Ukraine (donations 2x matched). Pickup up your egg on April 30, @ VAG North Plaza under the PEACE sign. Please bring receipt for proof of donation.
Link for UNICEF Ukraine: https://secure.unicef.ca/page/98630/donate/1?ea.tracking.id=22DIEM02XXE
Symbolism: Why eggs? Decorated eggs are found in many cultural traditions and date back to ancient times, when eggs were decorated in the spring as a symbol of the rebirth of the earth, renewal and hope. In general, eggs have been a traditional symbol of fertility and rebirth. In Christianity, for the celebration of Eastertide, Easter eggs symbolize the empty tomb of Jesus, from which Jesus was resurrected. North American Indians refer to the full moon in April (this year on Saturday, April 16th) as the Egg Moon, which signifies the birth and creation of new life across the land, and actually lures the life out of the ground, encouraging sprouts to spring to life. Eggs also remind us of our own paradoxical nature, both sufficiently fragile to break free or break down and yet highly resilient and able to withstand an amazing amount of physical force.
Suggested Method and Supplies:
2 eggs (real, plastic, egg carton or 3 dimensional ovoid shape)
1 meter of skinny string, a bead for the bottom
Paints, markers, craft supplies (shiny plastic eggs need either gesso or chalk paint on them first before decorations markers adhere)
Pysanky sleeves (decorative shrink wraps) are available online at Amazon or Etsy.
Step 1: If using a real egg, take one egg, carefully blow out the egg yolk. Do the same to the second egg. [see google.ca]
Step 2: Decorate the hallowed-out eggs. Suggestions include motifs depicting different ethnicities, cultures, traditions and nature. The shells coloured, covered in paper-mache, beadwork, or things found in nature – use your imagination. (shiny plastic eggs need either gesso or chalk paint on them first before decorations markers adhere) Step 3: String together 2 decorated eggs on a piece of 8mm waxed cotton or hemp cord, one metre long. Each end of the cord should have one decorated egg ornament, tie a knot on both ends. Your decoration will hang from a tree branch with one egg on either side of the branch.
Step 4: Attach a small label to the decoration with your name / school / and age. *Note: Another label with the words "Art for Peace" in English and one other language will be attached to each decoration.
Step 5: Drop off your eggs from April 13-15 between 4 – 7pm, outside the main entrance of the Vancouver Art Gallery – off Robson Square Plaza. The Art for Peace Exhibit will run from April 16-29.
Art Contacts: Please email both contacts with any questions.
Patricia Hogarth, Marketing Coordinator, c. 250.816.8880 e. jphogarth@shaw.ca
Ellen Vaillancourt, Simon Fraser University, MA Candidate United Religions Initiative, CC Co-Founder, Spiritus Mundi c. 604.614.3553 e. edvailla@sfu.ca
---