---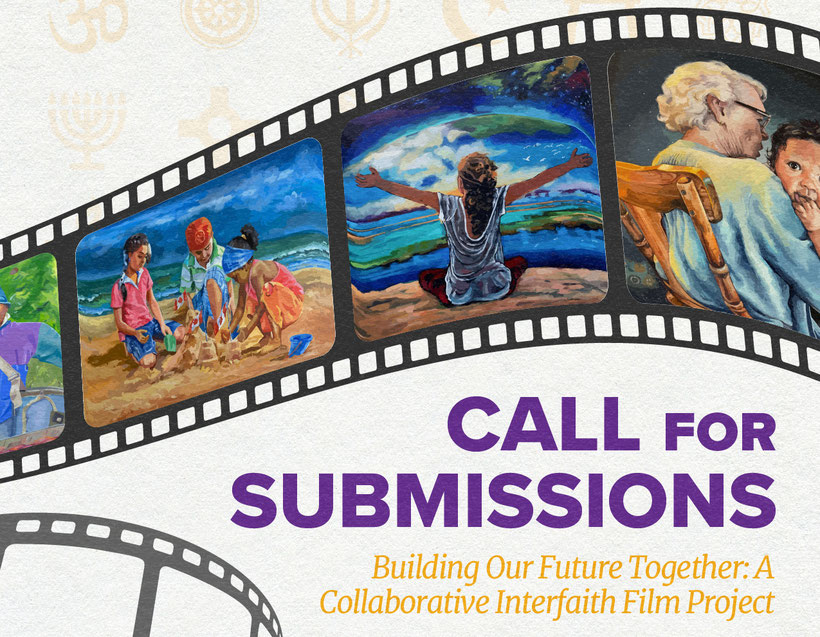 Each year, the Multifaith Action Society invites artists around the world to submit artwork around a specific theme for potential inclusion in the next edition of the award-winning Multifaith Calendar. Our theme for 2023 is 'Building Our Future Together," and we thought it would be a fun and interesting idea to expand that call for submissions to include video as well!
Since the calendar is a print publication, the videos cannot appear in the calendar itself, but will be integrated into a wide-ranging public engagement campaign that will culminate in a film festival or some other climactic event.
Key details and technical considerations:
We are offering an honorarium of $200 for each video that is selected for inclusion in this project.
The videos do not have to be professional productions – amateur phone videos are warmly welcomed, and people of all ages and skill levels are encouraged to participate!
There is no maximum length, however, we will weigh our selections heavily toward shorter and more 'shareable' videos (of up to one minute in duration). That being said, we understand that certain topics, projects, etc. are better suited to longer videos, and this is fine – content is more important than length!
To submit, please upload your video to a cloud-based file-sharing service such as Dropbox, Google Drive, or Microsoft OneDrive, then send a link to the file to admin@multifaithaction.org. You can include any other supporting information you wish in this email.
Since we are a multifaith organization, videos that incorporate inter-faith or multicultural themes or projects will be given the highest priority.
The deadline for submissions is October 31, 2022.

About our theme – "Building Our Future Together":
The last few years have been challenging, yet we have persevered. We have conserved our energies, as needed, and have tapped into more inner strength than likely any of us knew we had. Our struggles have not been easy, but we have deepened our resolve and grown immeasurably in spite of—indeed, because of—them.
Yet now it is time for us to open our hearts and work towards building our future together. To meet the neighbours we have never visited before and to join forces with friends, newcomers, and even former enemies. Our collective needs are vast, but working in concert, we can surely meet them. 
We can rebuild the cities and towns that have been devastated by climate disaster. We can support workers and small businesses that have languished during the pandemic. We can plant gardens and revitalize animal populations. We can make amends for our nation's past abuses and heal our social and political divides. We can teach our children to love themselves and one another. And when trouble arises and we begin to lose hope, we can care for ourselves and trust that others will soon pick up the slack. For there is no need for fear or overwhelm when you know you are just one part of a loving, cohesive community.
This coming year, we celebrate the beautiful and necessary work of "Building Our Future Together", and offer our shared visions of hope, teamwork, community, and mutual support.
If you have any questions or would like to discuss further, please contact Marcus at admin@multifaithaction.org. 
We look forward to seeing what you create!