---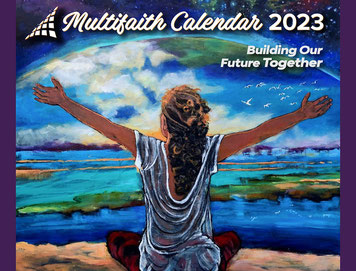 Please join us in celebrating the launch of the 2023 Multifaith Calendar, "Building Our Future Together"!
We will be gathering on Zoom at 7pm (PST) on Wednesday, November 23. We hope to see you there! Please use the button below to register - the Zoom meeting information will then be sent to your email.
---
About the Multifaith Calendar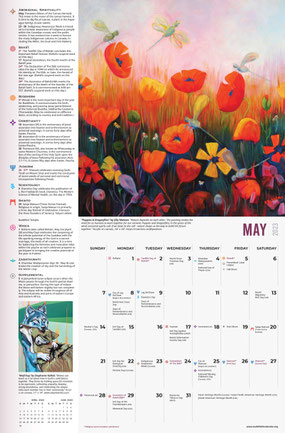 Proudly published annually by the Multifaith Action Society for 37 years, the acclaimed Multifaith Calendar combines comprehensive information relating to world religions, their spiritual traditions and observances with beautiful, community-sourced artwork to create a unique and compelling product with outstanding educational and artistic value.
Nearly 500 different holidays and religious festivals from 14 world religions, as well as select cultural events, public holidays and UN observances, are detailed in the Calendar. 
By helping to raise awareness of these observances, as well as their historical origins and any spiritual precepts that maybe associated with them, the Multifaith Calendar continues to assist and facilitate cross-cultural understanding, provide a basis for dialogue, discussion and community involvement / engagement, and foster environments of mutual respect, awareness and understanding across communities and in workplaces as well as both private and public institutions across North America and Internationally.
The 2023 Multifaith Calendar, "Building Our Future Together", is available now!
For more information or to purchase your copy today, please visit www.multifaithcalendar.org!