Sunday, February 5 | 2:00 - 5:00 pm | Spirit of Life Lutheran Church
---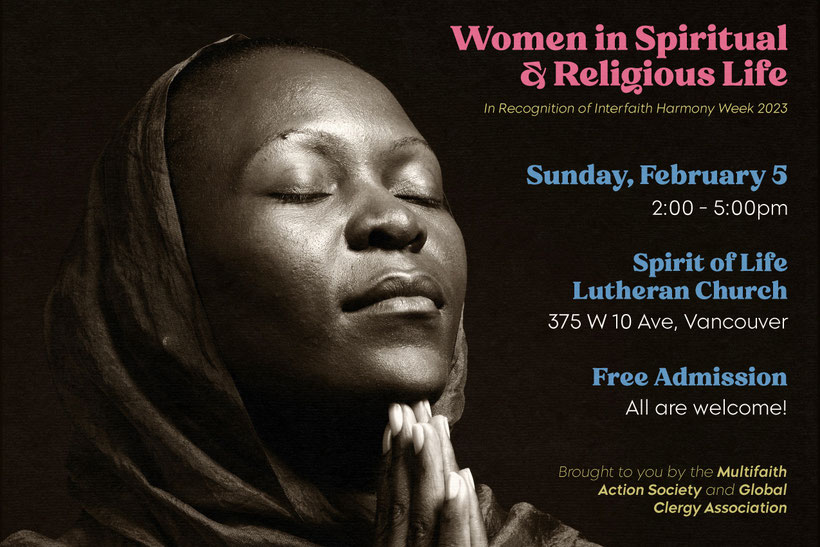 Save the date! Please join us on the afternoon of Sunday, February 5, at the Spirit of Life Lutheran Church in Vancouver as we explore interfaith perspectives on Women in Spiritual and Religious Life. This event, held in recognition of Interfaith Harmony Week, is free to attend and open to all. More information to come - we hope to see you there!
---
If you are unable to attend in person or would prefer to participate virtually, you can join us by Zoom! Click the button below to register, and the meeting details will be delivered to your email address.
---
---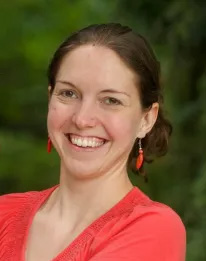 Cathy Merchant is an ordained Interfaith minister. She holds an MDiv from the Vancouver School of Theology and an MA in Middle East Studies from the University of Washington. She loves connecting with people from different faith traditions and leads her own Interfaith congregation here in Vancouver, called the Living Interfaith Sanctuary. Before moving to Canada, Cathy specialized in conflict resolution pertaining to the Israel / Palestine conflict. She worked for the Compassionate Listening Project, the American Friends of the Parents Circle Families Forum, and the Council on American-Islamic Relations, all in the Seattle-area.
---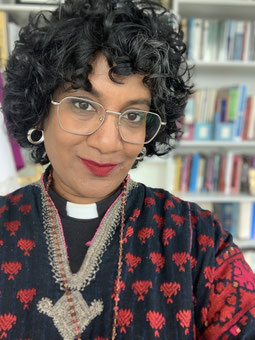 Rev. Aneeta Devi Saroop has been serving Spirit of Life as pastor since December 1, 2020. She earned an MDiv at the Lutheran Theological Seminary in Saskatoon Sk and studied English Literature and Sociology at the University of Victoria. She considers herself "Born Hindu, Baptized Chrisian and Lutheran by choice". She welcomes any and all conversations about faith and even questions that aren't about faith. She serves on the board of the Multifaith Action Society of B.C, The Evangelical Lutheran Church in Canada's Task Force for Adressing Rascim, White Suprmacy and Issues of Racial Injustice and is a Co-Keynote speaker for the Canadian Lutheran Anglican Youth Gathering in Waterloo Ontario next summer 2023. 
---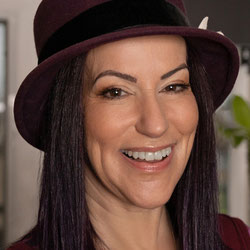 Rabbi Dr. Laura Duhan-Kaplan is Director of Inter-Religious Studies and Professor of Jewish Studies at the Vancouver School of Theology. She holds a Ph.D. in Philosophy and Education from Claremont Graduate University, Rabbinic ordination from ALEPH: Alliance for Jewish Renewal, and a Grad.Dip. in Spiritual Direction from VST. Rabbi Laura is an award-winning teacher of courses on Sacred Texts and Oral Traditions, Gender in Religious Traditions, Religious Pluralism, and more. She regularly brings scholars and community members together for inter-faith dialogue. Together, they have published the books Spirit of Reconciliation (CRRF, 2020), Encountering the Other (Pickwick, 2020), and Visions of the End Times (Pickwick, 2022).
---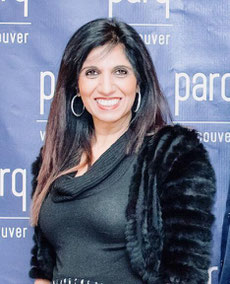 Lali Pawa is still on her journey into Spirituality and her Religious life.  Sikhism is a philosophy about continuous self-improvement, developing and evolving with the Guru's grace. The time it takes to become a Sikh does not matter as long as you keep learning and making progress throughout your life. Following the path of Sikhi is falling in love with your soul and God. Most worthy accomplishments in life require dedication, motivation, sacrifice, strength and commitment. Lali admits she is still in the beginning phase of this enlightenment but makes an active effort to cultivate humility, love and dedication towards Sikhism. For over 5 years, Lali was the Coordinator of SikhRI (Sikh Research Institute) BC Chapter and facilitated many educational programs, workshops, forums and other events. She currently is a Legal Educator and Advocate for the Justice Education Society where her learnings assist with helping the most vulnerable and marginalised members in our community. In addition, she supports the Youth, Women and Senior programs at Khalsa Diwan Society of Surrey.
---
With music from Lorraine Reinhardt of the Vancouver Chamber Choir
The pogram will be followed by a reception with light refreshments after the event.